Downtown Crossing public realm analysis and design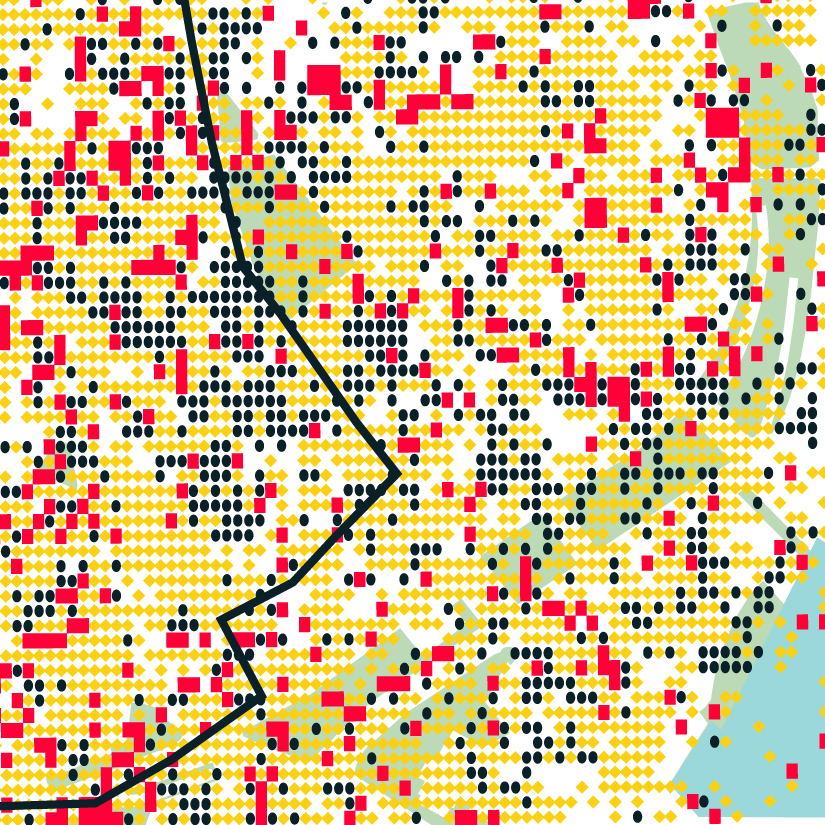 2017
Downtown Boston, particularly in the blocks surrounding the Downtown Crossing nexus of transit and activity, is one of the most complex urban conditions in the region. The Downtown Boston BID engaged Supernormal to look more closely at the real users and use patterns of the district in 2017, to understand how to better serve these citizens and businesses through improvements in the public realm.
We analyzed anonymized mobile device data in aggregate to generate a high resolution quantitative view of the Downtown Boston Business Improvement District and to qualitatively reconsider the design of the public realm in response.
Median age and patterns of concentration. This diagram shows the median age across all collected data at each point within Downtown Crossing.
The importance of the public realm is underscored by evidence that a significantly higher percentage of activity is hosted on the streets instead of inside buildings.
Density of mobile activity within 100 feet of sequential Downtown Crossing intersections along Washington Street.
Beyond an improved overall understanding of activity types, levels, and demographics within the site, actionable patterns in the data include high levels of activity measured along the Winter-Summer Street corridor and low levels of pause and social space along this same route. In contrast, data shows an absence of activity and heightened safety issues along Washington Street. By combining such observations with improved knowledge about gaps in activity during certain times of the day, we can target "low-hanging fruit" and create strategic design, use, and planning recommendations.
Specific recommendations include bringing managed and regular multi-modal traffic back onto Washington Street, which can also host retail loading. The Summer-Winter corridor can remain pedestrian-only with added elements to increase friction and encourage lingering during and beyond the evening commute. One particularly long and blank facade along an introverted department store ground floor can be broken up by expanding existing and minimal display windows into a street-facing cafe. Additionally, a more significant display program could invite public art to enliven the less active Summer Street edges and extend the Theatre District into the heart of Downtown Crossing.
The overall goal is to use improved quantitative methods to improve the qualitative experience of the public realm.
Elizabeth Christoforetti, Will Cohen, Yonatan Cohen, and Stephen Rife